Die unglaubliche Geschichte mit der ROSA LUFT
Der amerikanische Werbefachmann Howard Gossage schuf einst eine Werbung für den Mineralölkonzern Fina, die in die Geschichte der Werbung einging. Benzin gilt ja nun als eines der austauschbarsten Güter und der Verbraucher kennt wenig rationale Gründe, der einen Marke, den Vorzug vor der anderen zu geben.
So erfand Gossage den Zusatz "Rosa Luft"; eine überragende Media-Idee. Fina versprach also seinen Kunden, rosa Luft in die Reifen zu füllen und bot als kleines Geschenk zum Beispiel rosa Ventilkappen oder rosarote Luftballons an – kostenlos abzuholen – an der Tankstelle!
Die Idee war verrückt, aber sie funktionierte.
Die Leute gaben Fina den Vorzug, weil es dort eben ein interessantes kleines Extra gab.
So muss Werbung sein. Einzigartig. Mit starken Bildern.
Und sie muss vor allem – verkaufen!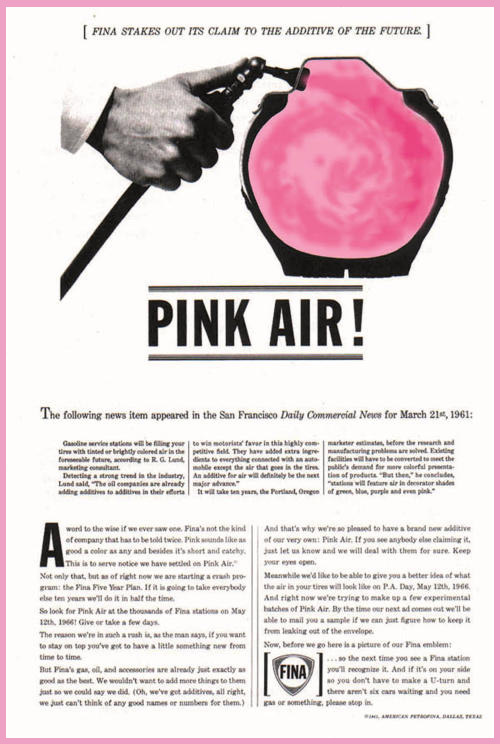 The incredible story of Pink Air
The American advertising expert Howard Gossage once created an advertisement for the mineral oil company Fina, which was one of the most compelling advertising campaigns in history. Gasoline is now considered one of the most interchangeable products and the consumer is amazingly loyal to the brand.
Gossage invented the addition "pink air"; a new media idea. Fina promised its customers to fill their tyres with pink air and offered them pink valve caps or pink balloons as a small gift free of charge at the petrol station! The idea was so innovative …..and it worked.
People preferred Fina because it has an interesting new idea.
That's what advertising is all about, it should be unique with strong pictures.

"Der Erfinder des Einspritzvergasers kam und kam nicht weiter – bis er seine Frau einen Parfümzerstäuber benutzen sah."
Wer nimmt sich heute noch Zeit zum Spinnen, Grübeln, Nachdenken; Zeit, neue Eindrücke zu sammeln und diese auf sich wirken zu lassen? Alles muss schnell gehen, effizient sein, sofort zum Ergebnis kommen. Ganz ehrlich: Außergewöhnliche oder brilliante Ideen werden selten in einem funktionalem Büroraum oder Konferenzzimmer entwickelt. Sie entstehen auch nicht unter Zeitdruck. Ideen brauchen, wie alles Gute, Zeit zu wachsen und zu reifen, um am Ende, die Basis für eine tragfähige Konzeption zu werden. ThinkPink nimmt sich Zeit für Ideen.
Auf Wunsch auch gemeinsam mit Ihnen …
… vielleicht bei einem Spaziergang oder in einem ruhigen Café.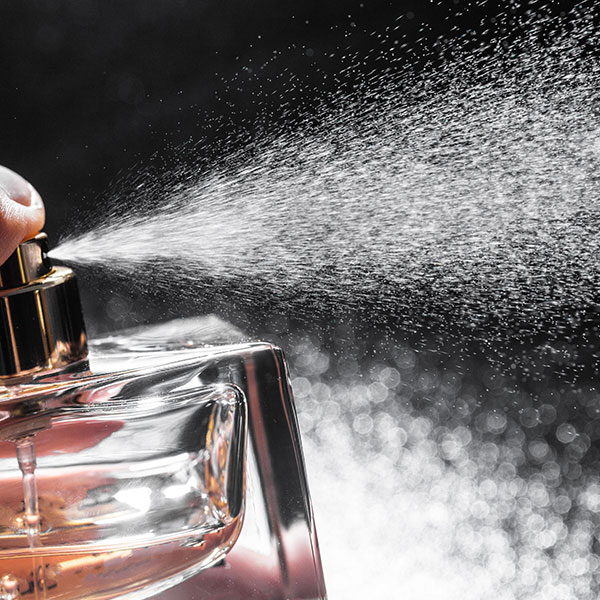 "The inventor of the injection gasifier had little success until he saw his wife using a perfume spray."
Who takes time today to ponder, think; time to collect new ideas and let them have an impact on your life? Nowadays, everything has to be fast, efficient and immediately available. Quite honestly, unusual or brilliant ideas are rarely developed in a functional office or in a conference room. They do not arise under time pressure. Ideas, like all good things, need time to grow and mature in order to ultimately become the basis for a sustainable concept. ThinkPink takes its time to implement your ideas.
If you wish together with you …
… maybe we can discuss your ideas on a walk or in a quiet cafe.