Die unglaubliche Geschichte mit der 
ROSA LUFT
Der amerikanische Werbefachmann Howard Gossage schuf einst eine Werbung für den Mineralölkonzern Fina, die in die Geschichte der Werbung einging. Benzin gilt ja nun als eines der austauschbarsten Güter und der Verbraucher kennt wenig rationale Gründe, der einen Marke, den Vorzug vor der anderen zu geben.
So erfand Gossage den Zusatz "Rosa Luft"; eine überragende Media-Idee. Fina versprach also seinen Kunden, rosa Luft in die Reifen zu füllen und bot als kleines Geschenk zum Beispiel rosa Ventilkappen oder rosarote Luftballons an – kostenlos abzuholen – an der Tankstelle!
Die Idee war verrückt, aber sie funktionierte.
Die Leute gaben Fina den Vorzug, weil es dort eben ein interessantes kleines Extra gab.
So muss Werbung sein. Einzigartig. Mit starken Bildern.
Und sie muss vor allem – verkaufen!
ThinkPink weiss, wie man verkauft.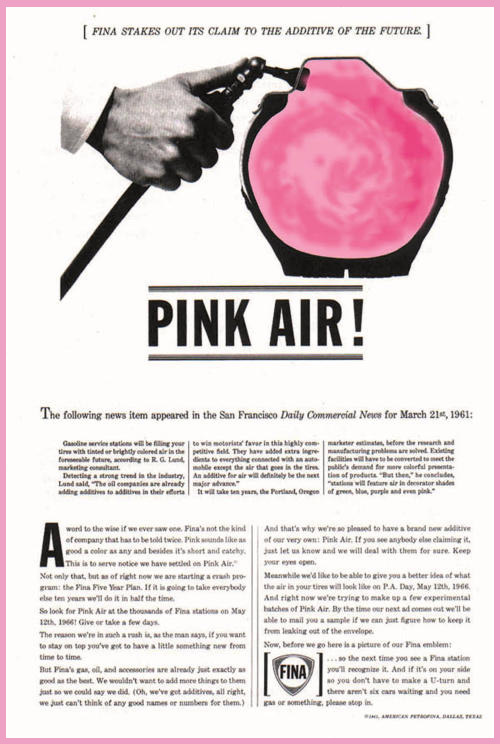 The incredible story of
Pink Air
The American advertising expert Howard Gossage once created an advertisement for the mineral oil company Fina, which was one of the most compelling advertising campaigns in history. Gasoline is now considered one of the most interchangeable products and the consumer is amazingly loyal to the brand.
Gossage invented the addition "pink air"; a new media idea. Fina promised its customers to fill their tyres with pink air and offered them pink valve caps or pink balloons as a small gift free of charge at the petrol station! The idea was so innovative …..and it worked.
People preferred Fina because it has an interesting new idea.
That's what advertising is all about, it should be unique with strong pictures.
Above all it has to – sell!
ThinkPink knows how to sell.
Warum wir den Mittelstand lieben …
Weil viele unsere Kunden solide Mittelstands-
unternehmen sind. Hier verfügen wir über große Erfahrungen.
Weil wir glauben, dass kleine und mittlere Unternehmen unverwechselbare Kommunikationskonzepte genauso zu schätzen wissen, wie Großunternehmen.

Weil die Entscheidungswege meist über die Entscheider gehen und damit oftmals erfolgreicher sind.
Fragen Sie uns nach unseren besonderen Vergütungsmodellen für Mittelstandsunternehmen
Speziell für kleinere und mittlere Kunden haben wir uns besondere Vergütungsmodelle ausgedacht, die Ihre Liquidität schonen.
Why we love medium-sized companys
Because many of our clients are medium-sized companies, we have a lot of experience dealing with them.
We believe that small and medium-sized companies appreciate distinctive communication concepts just like large companies.

Because the decision-making processes are usually handled by the decision makers they are, therefore, often more successful.
Ask us about our special package for medium-sized companies.
We have devised special remuneration models especially for small and medium-sized customers to safeguard your investment.